DATA INSIGHTS | by YouGov
888 Holdings honours BetBright's ante-post Cheltenham bets but excludes footballer punter bets
Last week Dublin-based BetBright was snapped up by industry giant 888 Holdings for £15 million. But 888 only wanted BetBright's technology to fill a gap in its line-up, so the company's customers, debts and potential liabilities weren't part of the deal.
This soon became clear to customers and provoked anger after an announcement that "all single bets due to settle after 5 March at 23:59pm will be voided". Not only were customers enraged with the ease with which a large gambling brand could be separated from these obligations, but the move came a week before the Cheltenham Gold Cup – the largest betting event of the year in racing, and one in which many punters place bets months in advance in the hope of better odds.
After harsh scrutiny from the public and the UK Gambling Commission, 888 conceded that they would honour ante-post bets on the Cheltenham Festival as a gesture of goodwill. However, ante-post bets for football, such as the winner of the Premier League and the Championship, will not be honoured – leaving many football fans outraged and accusing 888 of only honouring Cheltenham bets due to its topicality.
YouGov data indeed shows that the Cheltenham Gold Cup is enjoying huge popularity at the moment. Consideration of the event (whether someone would consider attending the event if geography and price were no object) is at a four year high; not just for those who gamble and follow horse racing (+45.6) but for gamblers who follow football as well (+23.8).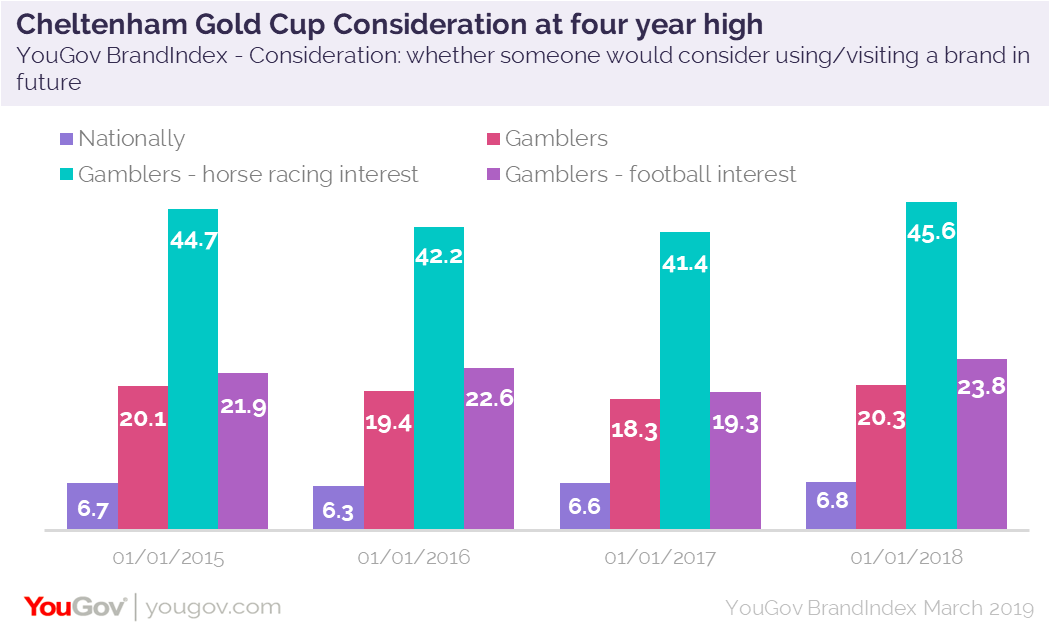 But how has the controversy affected the company? Opinion is starting from an already low base – 888 doesn't have strong awareness among the British public, and 50% of Brits haven't even heard of the brand. This improves to 63% among those who have placed bets at a bookmakers (either online or at events) in the last 12 months, and among those gamblers who also follow sports the figure rises again: 66% awareness among football punters, and 89% awareness among horse racing punters. This shows that the decision to appease horse racing punters above all else was perhaps a wise one.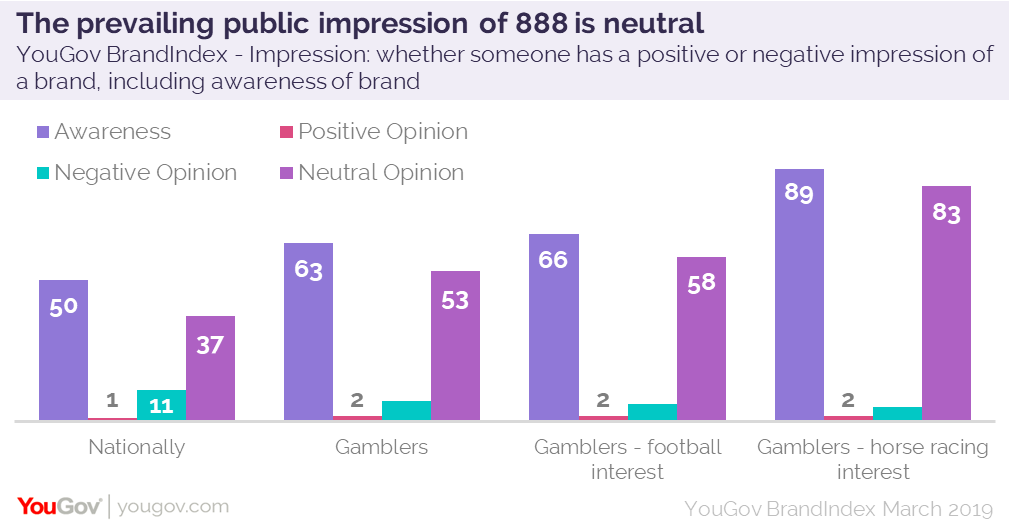 Since the purchase and subsequent fallout, 888's Buzz score (a net measure of whether consumers have heard anything positive or negative about the brand in the last fortnight) has fallen from an already low -0.6 to -2, after briefly breaking into positive territory at +0.7 in February. This shows that the controversy has certainly been noticed, and had an impact.
In general, 888 has a pretty low Impression score (whether someone has a positive or negative impression of a brand) with 11% of Brits viewing the brand negatively. This isn't much better among gamblers, with 7% still viewing the brand negatively. However, those who gamble and also follow sports have a slightly less negative view – 6% among football punters, and 5% among horse racing punters. But the move to let BetBright's football bets fall by the wayside will have an impact on the parent company: 888's Impression score (whether someone has a positive or negative impression of a brand) among football followers dipped from -8 to -12.7 last week.
All this comes at a time of difficulty for 888 Holdings, which recently announced that full-year revenues dropped 2%, with a 37% fall from their poker platform and a 17% slump in their bingo business more than offsetting growth in their casino and sports divisions.
Data gathered using YouGov Data Products.
Image: Getty